Police Academy Trainee
Full-Time | $5,051 - $6,141 monthly
Salary as Sworn Police Officer: $6,840.00 - $8,314.00 per month | $82,080 - $99,768 per year

Must be currently enrolled in and attending a P.O.S.T. certified Police Training Academy OR have graduated from a P.O.S.T. certified Police Training Academy within the last year to qualify for this position.
Physical Agility Testing and Written Tests are Waived for this position, an oral interview will be scheduled for qualified candidates AFTER all applications have been received


For a list of current job openings, please check the City of Chino website under employment opportunities.
The most qualified candidates will be invited to attend a panel interview. Testing details to be provided separately to all qualified applicants via email, please check your email inbox (junk/spam folders) on a daily basis for  updates regarding this recruitment.
FULL-TIME BENEFITS INCLUDE: 
PERS Retirement, $100,000 Beneficiary Death Benefit, Health Insurance/Benefit Bank/Cash Out of $1,345 per month, 12 Days Paid Vacation per year, Bilingual Pay, Tuition Assistance Program and Educational Incentive Pay (may be earned upon promotion to Police Officer).
CITY ORGANIZATIONAL VALUES:
Partnerships and Teamwork, Integrity, Commitment to Our Customers, Innovation, Open Communication and Fiscal Responsibility.
CITY OF CHINO MISSION STATEMENT:
Together we take pride in providing quality, caring service to our community. 
The provisions of this job announcement do not constitute an expressed or implied contract.
Due to the high volume of applications received, the City of Chino is unable to comment on the status of an individual application.  Your application will be reviewed and you will be contacted if you are selected to move forward in our hiring process.
POLICE ACADEMY TRAINEE JOB DESCRIPTION
Definition:
Under direct supervision and tutorage of a tactical officer, develops an awareness of the functions, activities, and responsibilities of a Police Officer.

DUTIES/RESPONSIBILITIES:

Class Characteristics:

Police Academy Trainees must be currently enrolled in and attending, or graduated within the past year from a P.O.S.T. certified Police Officer training academy designed to provide a comprehensive overview of the criminal justice system and specialized training in various laws, Police practices and procedures, law enforcement techniques, First Aid, physical conditioning, and participate in departmental training/orientation programs. Upon successful completion of a Police Officer training class, Police Academy Trainees will be appointed to and sworn in as a probationary entry level Police Officer with full Police authority.

Essential Functions:
Understand and carry out oral and written directions.
Meet standards of physical stature, endurance, and agility established by the City.
Observe accurately and remember names, faces, numbers, incidents, and places.
Use and care for firearms.
Think and act quickly in emergencies, and judge situations and people accurately.
Learn, understand, and interpret laws and regulations.
Prepare accurate and grammatically correct written reports.
Learn standard broadcasting procedures of a Police radio system.
Establish and maintain cooperative working relationships with those contacted in the course of work.
Maintain prompt and regular attendance.
Perform all duties within the context of the City's Mission Statement and Organizational Values.

QUALIFICATIONS:

Any combination of education and experience that provides the required knowledge, skills, and abilities to perform the essential job duties of the position is qualifying. Incumbents will possess the most desirable combination of training, skills, and experience, as demonstrated in their past and current employment history. A typical example includes:

Education:
High School Diploma or G.E.D. (required).
Current enrollment and attendance in a P.O.S.T. certified Police Officer training academy OR have graduated within the past year from a P.O.S.T. certified Police Training Academy (required).
Supplemental Police Science courses (desirable).

SPECIAL REQUIREMENTS:
Possess a California Driver License and a satisfactory driving record.
Receive satisfactory results from a background investigation, polygraph test, psychological evaluation, a physical examination, which includes a drug screen, and an administrative review.
Police Background Investigation / Administrative Review

Police Officers are assigned to work in the Chino Police Department facility and have access to Police Department databases and confidential information systems. As a result, applicants are required to successfully complete a Police background investigation and a final administrative review conducted by the Chino Police Department. The background investigation will also include passing a polygraph examination.  Applicants may be disqualified from further consideration for employment by the Chino Police Department  during the background investigation process for reasons including, but not limited to: arrests and/or convictions; a history of substance abuse; high risk driving behaviors and/or an excessive number of traffic citations/collisions; thefts from past employers and/or performance, tardiness, absenteeism in work history; poor credit history such as bankruptcies, foreclosures, repossessions, collections, or liens. The following is an example of areas that are examined during the police background investigation:
Relatives, acquaintances, personal and professional references are contacted and asked to provide information regarding the applicant's suitability for the position.
Residence and neighborhood checks are conducted for all locations listed in the applicant's history of residence.
Work history and experience are examined to determine the applicant's trustworthiness, dependability, work relationships and job performance.
Educational history is verified and examined.
Military service records are verified.
Criminal history, driving history, and insurance records are collected and examined.
Consideration is given to the applicant's history of managing personal finances; however, being in debt does not automatically disqualify an applicant.
Share This Job:
Contact a Recruiter:
(909) 334-3190
Jobs@chinopd.org
Chino Police Department
5450 Guardian Way
Chino, CA 91710
More:
Not the right job for you?
Look below at the other
positions available at Chino
PD and find the job that's
perfect for you.
Chino PD
See what it's like to work for Chino Police Deparment.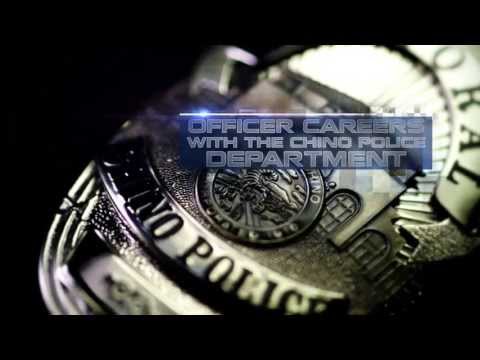 Watch Video